Shooting anywhere on earth is easy as 1,2,3!
Single Shooters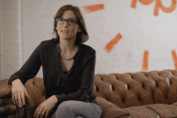 Perfect for simple talking head shoots…
When you just need to grab some talking heads or a bit of B roll, a single shooter is often just what you need. Our crew are imaginative and diplomatic and looking forward to helping you, and they know their cities well.
Two Person+ Crew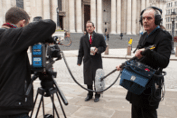 The Classic setup for Corporate and Factual…
When you need to setup a proper interview or the technical configuration gets more involved, you need a two person crew and maybe also a producer and driver. Our crew have worked on a wide variety of corporate and broadcast projects and have the latest equipment and the local knowledge you need.
Save Time & Money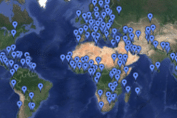 Our Worldwide Network is ready for you
You have a partner that is as committed to your project as you are. Our service starts before, and ends after, your shoot. Plus we can help with editing the finished film if needed.
Get your free quote from ACrew4U now>
Video Crew Worldwide

ACrew4U has the best video camera crew around the world. for global corporate and broadcast projects.
Video Crew Worldwide>
Webcast & Event Filming

Where you need we've Crew to cover Webcasting or Events, worldwide.
Webcasting Crew>
Editors, Studio, Photographers

Studio Crew in the UK and, internationally, Editors and Photographers too.
Studio Crew>
Photographers>
Video Editors>